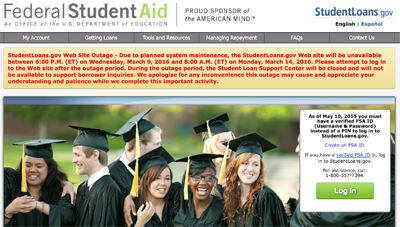 Dear StudentLogics Users,
Please note that studentloans.gov website will be down according to below announcement. You may experience some discrepancy in repayment plan calculations:
Due to planned system maintenance, the StudentLoans.gov Web site will be unavailable between 6:00 P.M. (ET) on Wednesday, March 9, 2016 and 8:00 A.M. (ET) on Monday, March 14, 2016. Please attempt to log in to the Web site after the outage period. During the outage period, the Student Loan Support Center will be closed and will not be available to support borrower inquiries. We apologize for any inconvenience this outage may cause and appreciate your understanding and patience while we complete this important activity.
Logics Support